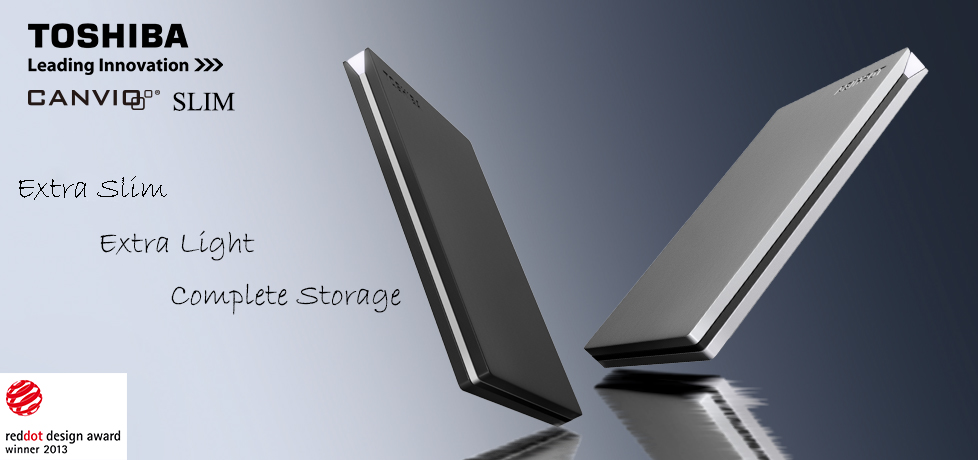 STORE MORE WITH LESS

The Canvio® Slim is one of the smallest 500GB Portable External Drives today. Ideal for those who carry an Ultrabook™ or a super-mobile PC, it also comes with pre-loaded software that makes it easy to back-up files or an entire system.
 
 
 
 

SMART MOBILE STORAGE

Today's Ultrabooks™ and extra-light PCs can often benefit from external storage. And any PC owner should have a backup solution. The Canvio® Slim Portable External Hard Drive helps out on both counts, offering a full 500GB of capacity to house your growing collection of pictures, music, home movies, video clips and important documents in one handy place.

 
 

SET-UP MADE SIMPLE

The Canvio® Slim Portable External Hard Drive couldn't be easier to use. Just plug it in and it's ready to go—for PC or Mac®3. It's USB 3.0 and USB 2.0-compatible, for speed and convenience. Plus, it comes with its own pre-loaded backup application. No need to buy additional hardware or software.

 
 

A SLIM, STYLISH DESIGN

Did you choose your Ultrabook or laptop for its looks? Don't stop when it comes to storage. With a sleek, lightweight design, the 9mm Canvio® Slim is the smallest 500GB portable drive you can buy—and one of the coolest, with a brushed aluminum finish in black or silver. It definitely keeps pace, and keeps up appearances.

 
 
 
 

BACK-UPS MADE EASY

Unlike other solutions, the Canvio® Slim makes it simple to back up not just files and folders, but your entire system2—or customize your backups to your exact needs. Secure your backups with password protection. Or, store on the cloud1 for total assurance. Schedule automatic backups. Then stop worrying and keep pushing ahead.

 
 

TRIPLE THE ASSURANCE

Like all Toshiba products, Canvio® Slim Portable External Hard Drives were designed from the ground up with your needs and imagination in mind, then tested again and again for reliability. You can count on them to perform as advertised—every time. That's why they come with a solid three-year limited warranty. 
1. Free 30-day trial of cloud backup included
2. The preloaded NTI Backup Now EZ software is compatible with Windows® OS only.
3. NTFS driver for Mac preloaded on drive. Use of Time Machine® software requires the drive to be formatted to HFS+

© Toshiba Digital Media Network Taiwan Corporation
Design by CREATOP