2012/ 07 /25
TOSHIBA ANNOUNCES NEXT-GENERATION 10,000 RPM-CLASS ENTERPRISE STORAGE HARD DISK DRIVE SERIES
Toshiba announces next-generation 10,000 Rpm-class
enterprise storage HARD disk drive series
2.5-Inch HDDs Offer up to 900GB Capacity, 6Gb/s SAS Interface with Improved Performance and Reliability for Mission-Critical Server and Storage Applications

Taipei, Taiwan,, July 11, 2012 –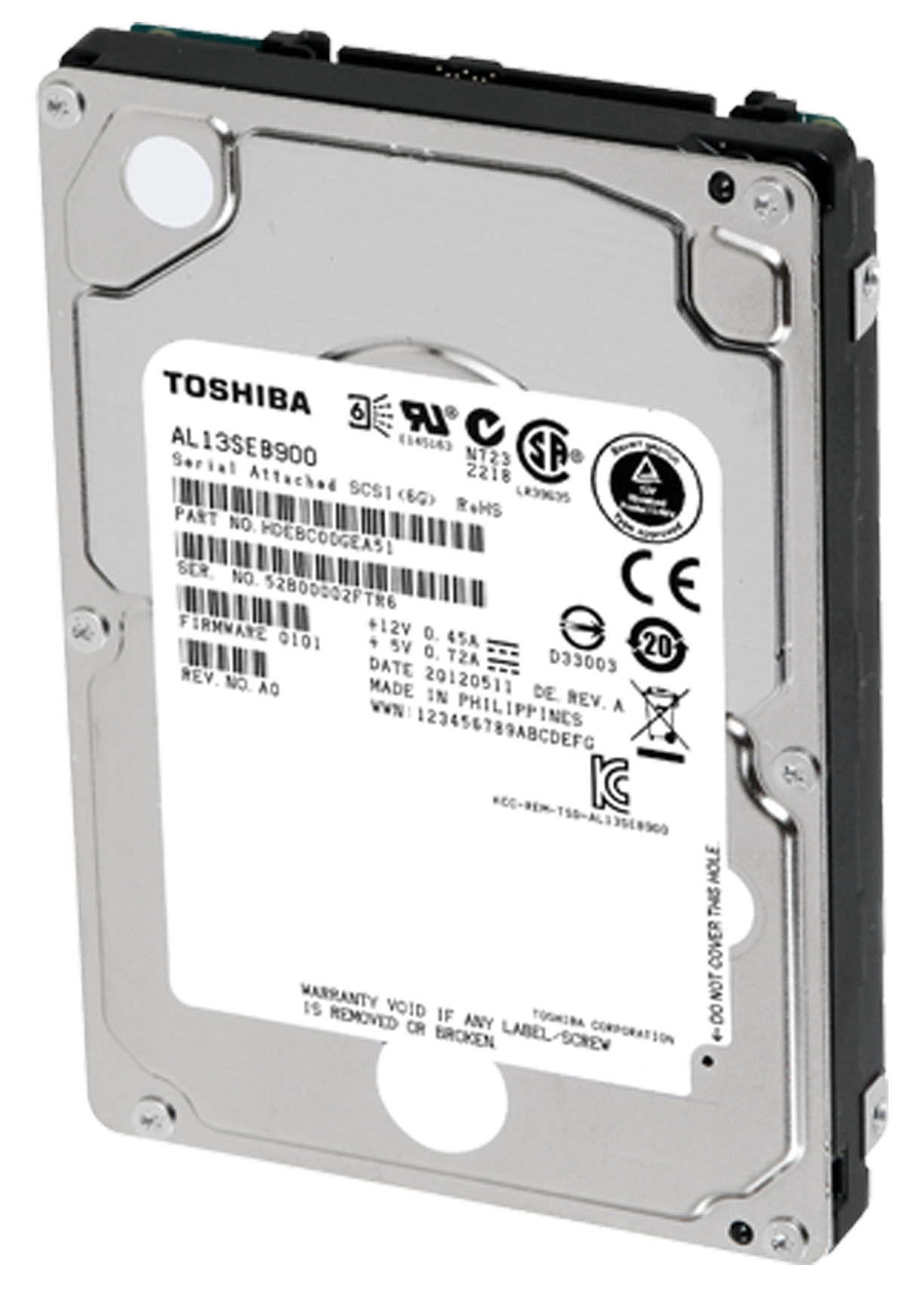 Toshiba Digital Media Network Taiwan Corporation (TDMT), today announced the AL13SE series of 2.5-inch 6Gb/s SAS interface hard disk drives (HDDs), which offer enterprise-class performance in capacities ranging from 900GB1 to 300GB.
The AL13SE is the first 10,000 RPM class model enterprise drive from Toshiba to achieve 900GB capacity and is also the first of Toshiba's 10,000 RPM drives to employ a dual-stage head positioning actuator that provides additional performance gains, including a 32% increase in sustained transfer rate.
Designed for even the most demanding mission-critical applications, the AL13SE series features an operating reliability rating of 2,000,000 power-on hours2, a 25% increase over prior-generation drives.  System compatibility is also assured through usage of the industry-standard 512 byte sector size.
In keeping with Toshiba's leadership in power efficiency design, the AL13SE Series uses Supported Enhanced Power Condition State technology to lower RPM idle speed.
"The AL13SE Series provides enterprise customers with capacities up to 900GB that support a broad range of enterprise applications," said Mr. Kashiwabara, Senior Manager of Marketing Sec., Toshiba Digital Media Network Taiwan Corporation.  "The increased performance and reliability of the AL13SE reflect our collaboration with our key partners to deliver small form-factor hard disk drives that address market requirements for mission-critical storage."
The AL13SE series is also available mounted in a 3.5-inch bracket3 for use in legacy based 3.5-inch servers and storage enclosures, providing the same 10,000 RPM class spin speed, 6 Gb/sec SAS interface, and reduced power consumption benefits available with small form factor drive technology.
1.        One Gigabyte (1GB) means 109 = 1,000,000,000 bytes using powers of 10.  A computer operating system, however, reports storage capacity using powers of 2 for the definition of 1GB = 230 = 1,073,741,824 bytes and therefore shows less storage capacity.  Available storage capacity (including examples of various media files) will vary based on file size, formatting, settings, software and operating system, such as Microsoft Operating System and/or pre-installed software applications, or media content.  Actual formatted capacity may vary.
2.        MTTF is not a guarantee or estimate of product life; it is a statistical value related to mean failure rates for a large number of products, which may not accurately reflect actual operation.
3.        3. The AL13SE  3.5-inch bracket mounted models will be available in September 2012.


© Toshiba Digital Media Network Taiwan Corporation
Design by CREATOP