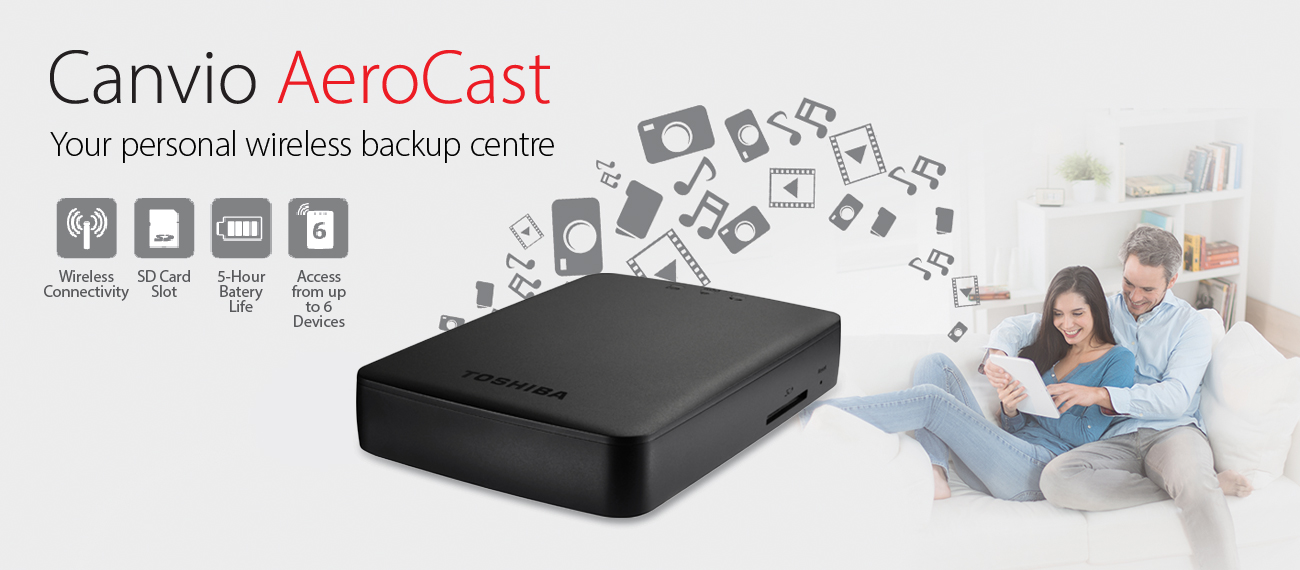 Access and share your content anywhere




Whether you're on vacation, on the patio or simply on the go, you can easily upload and back up digital photos, videos and content you create from all your mobile devices9 directly to your Canvio AeroCast™ Wireless Hard Drive for secure,8 centralized storage. Or use the device's SD memory card slot19 to back up images stored on your camera's SD card to free up space. Then you can instantly access all those stored files from the Canvio AeroCast™ Wireless Hard Drive and share your evolving digital library with your family and friends—up to six separate users simultaneously—through the device's own local Wi-Fi® connection (no Internet required).
 
 
 

 

 

Play on the Big screen


At home, use the Google Cast™ Ready app (available for download) and the Canvio AeroCast™ Wireless Hard Drive to wirelessly cast the entire collection of locally stored pictures and movies to your big-screen TV via Chromecast™ media streaming device (sold separately). Control it all from the comfort of your couch using your smartphone or tablet.

 
Uninterrupted Internet


Normally when you connect to a wireless media player you lose the connection to your wireless router—and the Internet. But with this device's Internet Pass-Through Mode, you can simultaneously access the Canvio AeroCast™ Hard Drive and the web (via your separate wireless router).

 

Perfect on the road


This portable wireless storage device has a built-in rechargeable battery so you can always have accessible storage for mobile backups, plus access to your complete digital library—everywhere you go. And with a large storage capacity of up to 1TB1 this storage device gives your digital library plenty of room to grow.
It's time to store, see, share and enjoy all your files—anywhere you want—all from one place.


 
 
 
 
 
 
 
 
 
 

© Toshiba Digital Media Network Taiwan Corporation
Design by CREATOP